TransUnion Warns A "Severe" Scenario Likely In Canada, Mortgage Defaults To Jump
One of the "Big Three" credit agencies warned they expect a big jump for insolvencies. TransUnion gave the industry a look at recent macroeconomic and consumer credit activity this week. During the presentation, the firm's analysts highlighted various deteriorating macro events. They warned lenders to expect a rising wave of defaults, as a "severe" risk scenario plays out. ...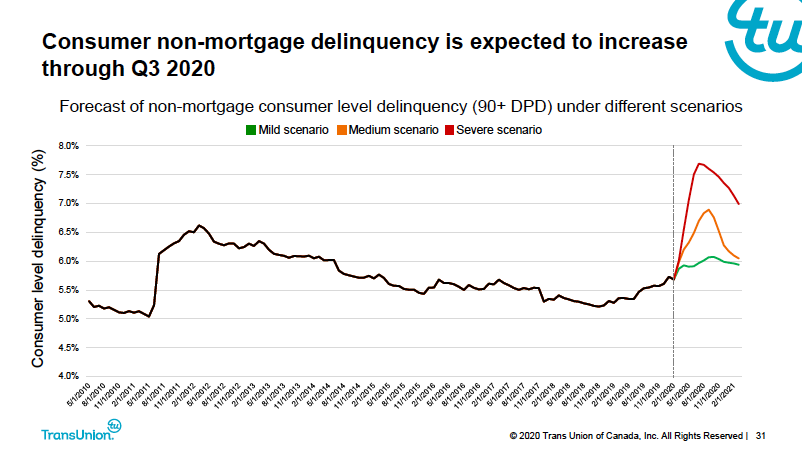 In the severe scenario, they expect the mortgage market will be hit fairly hard. By Q3 2020, they expect mortgage originations to drop by 43%. Average balances rise by 20%, as people stop aggressively paying off balances. Most interesting – the delinquency rate could rise 200%. The end of the third quarter would be around when the surge in mortgage deferrals begin to expire. ...
Overall, the firm's outlook seems to be in-line with what other credit risk firms have been saying. Insolvencies were rising and credit growth was slow last year. Now with a recession approaching, they expect the trend to accelerate. Over the long-term, the firm also warned, "entire sectors of the economy will have long-lasting impacts and some may not recover (travel, small business, ride-sharing, Commercial real estate)."
And for Analysis of this article, lets lean on the ever insightful Comment section for proof that Canada is a sinking ship steered by incompetence, And Alberta ... when this housing bubble pops ... you will be the one paying for the clean up for the entire friggin country: