Glacier National Park is removing signs that state all glaciers will be melted by 2020.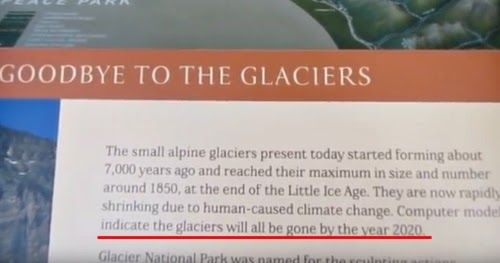 Now this is kinda embarrassing:
For more than a decade, signs at Glacier National Park warned visitors that the
glaciers would be gone by the year 2020 - now those signs are being changed.
They were originally added to the park to reflect climate change predictions by the U.S. Geological Survey. (link)

Park spokeswoman Gina Kurzmen explained that since the early 2000s scientists have reflected and analyzed data stating glaciers would recede by 2020.
She told MTN News that the ... park must update all signs around the park stating all glaciers will be melted by 2020.
The indoor and wayside exhibits have been updated throughout the park including at the Apgar, Logan Pass and St. Mary visitor centers, according to Kurzmen. She also told MTN News that an exterior panel at St. Mary still displays out-of-date language but is planned to be replaced later this year.
Kurzmen says Glacier National Park will work with the US Geological Survey to monitor the glaciers and update the remainder of the signs ...
So, to sum this up, they were very very wrong about everything and shouldn't be trusted anymore. They are removing all their signs because their signs are a visual reminder to visitors that these people are liars and/or incompetents. All evidence that disproves the narrative must be destroyed. These false (scientific modelling) prophets are little more than glorified Gaia moonies.

Full article here.